It seems like every week I get asked by new shooters: "I want to get started in PRS. What should I buy?" This question usually comes through my Facebook or Instagram pages or sometimes even from people I know.
"What should I buy?" is such a loaded (pardon the pun) question. You need to give me more information than just the question before I or anyone else educated on matter can answer you with any sort of authority.
The basic questions I ask before I can help you:
What is your overall budget for rifle and scope?
Do you intend on reloading?
Do you have your heart set on a particular caliber?
Do you want to compete in Open or Production?
Do you want to use the rifle for anything else? IE Hunting or range plinking.
If you can answer these basic questions we are well on our way to getting you an awesome setup which is more than capable of winning matches.
For the purposes of this article I'm just going to assume someone wants a rifle they can compete in club matches with the occasional national level match and some range plinking. They also want to stay in Production as they are "Not ready to play with the big boys yet". That last statement actually gives me a budget to work with too. According to the national rules of PRS for Production division you are limited to $5000 for rifle and scope. Keep in mind you will need other things like a bipod and rings to mount your scope in. Those other accessories aren't included in the $5000 budget; however, we can probably squeeze them in there or close to it anyway.
Caliber and Ammunition
What to next? Caliber. For anyone starting in this sport I always recommend the 6.5 Creedmoor. I know I know. Cue the 308 crowd and the 6.5 man bun haters. I get it. You guys aren't yet educated on the 6.5 Creedmoor. That's okay. I actually enjoy educating people and I have an article for you soon. Just hear me out please? The 6.5 Creedmoor is available as a factory round. You can buy it at almost every gun shop (in fact I would say every gun shop these days). You can buy excellent factory match ammo and bulk ammo that will allow you to be competitive at matches. For this I recommend the Hornady American Gunner 140gr BTHP ammunition. You can buy it in bulk lots of 200 in a free ammo can. It will cost you somewhere around the $250 mark depending on your local. Shop around. This is actually the ammo I use when I can't be bothered or don't have time to reload.
Rifles
This takes us to the rifle itself. In my opinion there are only two different rifles you should be looking at in this price bracket to leave you enough for a decent scope. The Lithgow Arms LA105 Woomera and the Howa 1500 Bravo. Have a look around and you can get some stellar deals on these rifles depending on where you shop. Lets build one of each and see how we go.
So I did some digging and found the Lithgow Arms LA105 Woomera for an average price of $3250 and the Howa 1500 Bravo for an average price of $1600 or so. Two very different prices; however, they both fit into the budget nicely leaving money for a decent optic.
Lets break down each rifle starting with the Lithgow:
Lithgow LA105 Woomera
The Lithgow LA105 Woomera is built on Lithgow's own designed action. This thing is built like a tank. The bolt is massive with with 3 lugs and a 60 degree throw, it gives a lightning fast action with a tight lockup. The barrel is cold hammer forged which gives it strength and longevity as well as laser like accuracy. The barrel has a 1:8 twist; which is more than enough for the rounds you are likely to be firing and it has an 11 degree target crown with 5/8×24 threads for screwing on the supplied 3 port muzzle brake. The action also comes with a 20 MOA rail bolted to it.
The chassis they chose is a Lithgow branded KRG X-Ray chassis. These chassis are KRG's mid price range chassis; however, they have a ton of features and you can add pretty much anything to them from the KRG catalogue. They also come with a Lithgow branded AICS magazine which appears to be a rebranded Accurate mag. (I'm happy to be corrected on this though).
All in all the LA105 is a slick rifle full of features for a factory price. It isn't a cheap rifle but it isn't really expensive either. Plus, it is made right here in Australia with a fully backed Australian warranty. From what I've seen, their customer service is spot on too. The rifle is so good my mate Ben, now uses one as his match rifle.
Howa 1500 Bravo
Now we have the cheaper of the two, being the Howa 1500 Bravo. Just because it is cheaper doesn't mean it is any worse off than the Lithgow. For many years I wasn't a fan of Howa rifles. They just didn't interest me. I didn't like the look of the action or the bolt or even the feel of it to be honest. Then came along the Howa 1500 Bravo. They haven't really changed anything on the action or the bolt maybe their manufacturing has gotten better or maybe it is all in my head but the Bravo feels better than what I have previously seen from Howa. Their actions and barrels come blued from the factory and they are fitted with a cold hammer forged 1:8 twist, 26 inch heavy barrel with a 5/8×24 muzzle thread. Note: they don't come with a muzzle brake from the factory. These things absolutely shoot and they shoot well too.
The chassis on this rifle is another by KRG (I'm seeing a theme here). This time it is the KRG Bravo chassis. built using the exact same backbone as the X-Ray chassis and the more expensive Whiskey 3 chassis the Bravo does away with the pistol type grip and gives a more traditional type look. It still feels very much familiar though. Like the Lithgow the Howa Bravo chassis can be upgraded with a host of KRG accessories from their catalogue.
Two of my shooting buddies Keiran and Dave both own one of these rifles and swear by them. They are both budget minded shooters and Keiran has beaten me more than once at our club matches. A budget rifle doesn't mean an incapable rifle though. The shooter has more to do with it than anything.
Optics/Scopes
Now that we have our two rifles we need optics. We have $1750 (LA105) and & $3400 (Howa Bravo) left to spend. These days that gives us a couple of decent scope options.
Of note: for this type of shooting competition you want a First Focal Plane (FFP/F1) Scope. What that means is when you zoom in and out the reticle stays the same relative size to the target no matter what magnification you have it on. Also there are a multitude of different reticle patterns available. Not every scope has all the different reticle patterns; however, we recommend some sort of Christmas tree style pattern. Although any mil based reticle will do.
For ease I'll list out some scopes with average retail prices that I can find at a quick look. You may be able to find these scope at cheaper or even more expensive prices.
Vortex Strike Eagle 5-25×56 FFP EBR-7C Reticle 34mm, Price ~ $1500
Vortex Razor HD 5-20×50 HD FFP EBR-2B Reticle 35mm, ~ $3300
Nightforce NX8 2.5-20×50 F1 Mil-C Reticle 30mm, Price ~ $3200
Nightforce SHV 4-14×50 F1 MilR Reticle 30mm, Price ~ $2350
Nightforce ATACR 4-16×42 F1 Mil-C Reticle 34mm, Price ~ $3330
ZeroTech Trace Advance 4.5-27x50mm FFP RMG Reticle, 30mm, Price ~ $1299
That is just a small portion of different scopes available on the market that will keep you below the $5000 mark combined with one of the rifles above. It is up to you now what you choose.
Accessories
To finish off your rifle you will need a set of rings, a muzzle brake (if it doesn't have one from factory) and a bi-pod.
Whatever you do don't cheap out here and go for cheap knockoffs. Rings are important; they hold your scope where it is meant to be so it doesn't slip during recoil. Buy a well known brand that will attach to your picatinny rail. If you want to keep to local brands look at Trentech engineering or Porter Machine Works. Both make quality rings and Muzzle brakes for that matter.
When it comes to a Muzzle Brake as mentioned above Trentech engineering make some really nice muzzle brakes. I don't personally own one, however one of their self timing brakes is in my future for an upcoming project. Another option to seriously consider here is an MDT brake. They are cheap and they work as well as being self timing. They just don't look as slick as some others on the market. Not to say they are ugly though.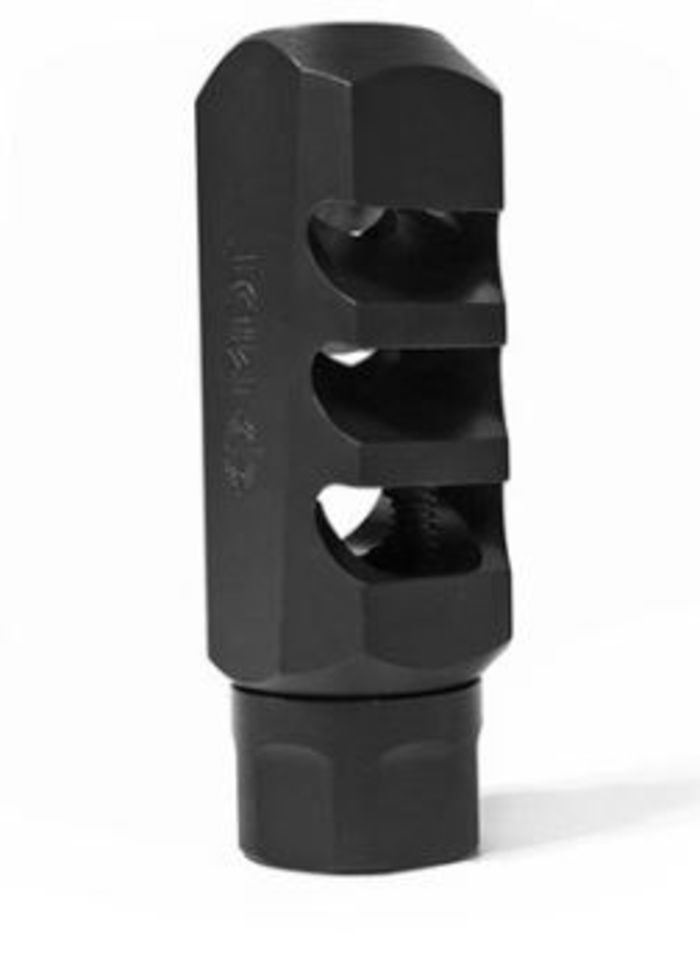 Last but not least is a quality bipod. Bipods can be really expensive. But you know what they say: You get what you pay for. Saying that though there is absolutely nothing wrong with the simple design of the Harris BRM-S bi-pod. I still use one on my Accuracy International. I have had that bi-pod for near on 15 years and put it through some abuse and it still keeps going. Plus these days you can do some upgrades to them if you like.
Another cheaper option, but still quality is the Magpul bipod. When they first came out I thought they looked flimsy and terrible. Now having been behind one a few times I can tell you that I was wrong. They are a quality bi-pod at a decent price. Don't discount them from your choice.
If you have the coin spare and you want to support an Aussie business check out Boscabel Weapons systems. They make an awesome bi-pod called the Bel-Loc V3. Alternatively you can try a Atlas bi-pod. They have a multitude of models with different functions.
Conclusion
As you can see getting started in the PRS doesn't have to be a massively expensive exercise. It isn't cheap mind you. You don't need a custom action and you certainly don't need an Accuracy International to be competitive (I didn't need it, I wanted it. That's for another article). As you progress you will learn more, research more, use friends gear and inevitably spend more of your hard earned cash. Both of these rifles could very well serve you for the rest of your PRS career. It just depends on how seriously you want to take it all. We aren't all professional. We are just a bunch of like minded people who enjoy shooting and hanging out. They just happen to be some of the best people I know too.
Get out. Buy a rifle. Learn to use it and shoot a match or two. You will be as hooked as the rest of us.
Craig
Disclaimer: The information presented in this article is for information purposes only. Your personal circumstances will determine what you can afford. Further, it is your responsibility to check the PRS Australia rules before buying any rifle or scope to make sure you are within the rules as set out by PRS Australia. I am in no way affiliated with PRS Australia or any businesses mentioned in this article. All opinions are my own and mine only.